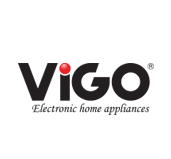 Vigo Brand TV, Refrigerator, Iron, and Other Electronics: A Guide for Consumers in Bangladesh
If you're looking for the best electronic appliances in Bangladesh, Vigo is a brand you can trust. Vigo is a leading brand of home appliances that offers a wide range of products, including TVs, refrigerators, irons, and other electronics. Here's what you need to know about Vigo and its products:
Vigo TV
Vigo TVs are known for their high quality and affordability. They come in various sizes and resolutions, from small TVs for bedrooms to large ones for living rooms. Vigo TVs are also equipped with the latest features, such as smart TV functionality, Wi-Fi connectivity, and USB and HDMI ports. With Vigo TVs, you can enjoy your favorite shows and movies with stunning picture quality and crisp sound.
Refrigerator
A Vigo refrigerator is an excellent addition to any home in Bangladesh. Vigo refrigerators come in different sizes and designs, from single-door to double-door, and they are equipped with advanced features such as frost-free technology, adjustable shelves, and energy-efficient compressors. With a Vigo refrigerator, you can store your food and beverages safely and keep them fresh for longer.
Iron
Vigo irons are designed to make ironing easier and more efficient. They come in different types, including dry, steam, and vertical steam irons. Vigo irons are also equipped with features such as adjustable temperature settings, anti-drip technology, and self-cleaning functions. With a Vigo iron, you can get your clothes wrinkle-free and looking their best in no time.
Other Electronics
In addition to TVs, refrigerators, and irons, Vigo also offers other electronics, including air conditioners, washing machines, and kitchen appliances. Vigo air conditioners come in various sizes and cooling capacities, making them ideal for any room in your home. Vigo washing machines are equipped with advanced features, such as multiple wash programs and fuzzy logic technology, making them easy to use and energy-efficient. Vigo kitchen appliances, such as blenders, juicers, and toasters, are designed to make food preparation easier and more convenient.
In conclusion, Vigo is a trusted brand of home appliances in Bangladesh. Whether you're looking for a TV, refrigerator, iron, or other electronics, Vigo has you covered. With high-quality products and advanced features, Vigo is committed to making your life easier and more comfortable. Choose Vigo and experience the difference for yourself!